Not Kazakhstan, not Nevada…it's South Australia's MARALINGA
Maralinga Tours – an insight into our hidden past
Learn about a very, very dark chapter in Australia's history. One Tree, Marcoo, Kite, Breakaway, Tadje, Biak and Taranaki: innocuous sounding names that in the 1950's provided headlines in the British and Australian press that heralded a growing capacity for Britain to offer a nuclear deterrent to the perceived threat of the Cold War. Maralinga Tours will give you an amazing insight into this dubious period of Australia's History.
Frequently Asked Questions · History · About the Tour · Location · Bookings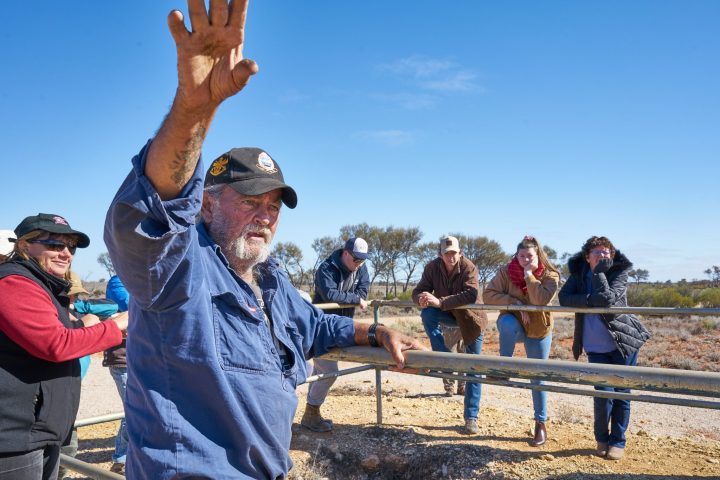 Testimonials
(Mouse over to stop scrolling)
The tour far exceeded my expectations – because of the information and how it was presented by Robin. He was patient, accommodating, and attentive to visitors' needs and provided detailed answers to all our questions. I am a woman, often travel by myself and have a mobility disability – but easily managed the whole tour on crutches. I was so overwhelmed and beyond amazed with the knowledge I gained on the tour, that I was ringing family and friends from Maralinga to tell them they must do it. It's quite a trip from Perth WA – but absolutely worth it. Robin's information really did justice to representing all perspectives – the Aboriginal people (past and present), the British and Australian servicemen, the UK government, and the Australian government.

The mud map is brilliant!
The tour was fabulous. Robin is a living historian. I only wish he can accomplish all that he has planned – a huge job but Maralinga has HUGE tourism potential.
The whole experience was first-rate, from the initial enquiry to the actual tour. In terms of the tour, Robin Mathews was an excellent guide and really made the tour for us. He was so knowledgeable about many details of the Maralinga story and was generous with his time answering questions, but would say if he was unsure or didn't know something. We appreciated this aspect of his style as our country comes to grips with the truth around what happened here.
The whole tour experience exceeded my highest expectations. The tour guide Robin is an amazing source of information about all things Maralinga. If the 4wd tour bus idea goes ahead I would be very interested in returning to have another look.
Our tour guide, Robin brought Maralinga to life . I could imagine what it must have been like all those years ago through his story telling. Very interesting commentary, a gracious and engaging host with all the time in the world for answering our questions !
My wife and I thoroughly enjoyed this tour. Robin has an encyclopaedic knowledge of matters Maralinga. He also has the right personality to impart that knowledge on the tour. We were away for about 9 weeks and this was one of the highlights of our trip. I would recommend the tour to anyone.
Our tour guide was amazing, his passion for and knowledge of the area was outstanding. He put every effort into making sure this was an exceptional tour. It is a unique story of our history.
The tour was amazing and gave us a better understanding of what happened 70 years ago.
Robin's knowledge is vast and ongoing. If I could make one suggestion to him, that would be to please wait until everyone is off the bus before sharing his information.
PS. Has Robin made further progress with the steel bunkers? We're keen to find out.
Finally, thank you for an incredible experience.
I have absolutely no criticisms and nothing but praise for the tour and the tour operator. He was a wealth of knowledge and willing to answer anything that was asked of him. He was incredibly considerate of everybody and their abilities.
With regard to your souvenirs, I personally was hoping to purchase a small publication/book/something similar that would give us some of the information that Robin imparted to us. He had so much information that we were unable to retain half of it we believe.
I would also like to thank Tim for his promptness in replying to an issue that I had.
Thank you to everybody involved most especially Robin for making this a most enjoyable location to visit. We are already planning a return trip.
Robin was an excellent guide- the roughness around the edges matched a keen mind with very good knowledge. One of the most interesting tours we have been on.
Tour guide Robin is a treasure, made the whole experience most enjoyable, and deserves a pay rise.
Maralinga was an excellent tour and stay, Robin's information was very informative and very well presented.
I would highly recommend the tour and stay at Maralinga.
We found Robin's knowledge and passion for the history of the Atomic Test site very informative and interesting. We loved the tour. A huge thank you to Tim for fitting us in at such short notice.